The University of Michigan-Flint student chapter for the Society for Human Resource Management (SHRM) is an organization dedicated to helping students at UM-Flint by providing professional development, networking, volunteering, and leadership opportunities to our members.

As leaders and members of this organization, our purpose is to promote leadership, diversity, and intuition by working together in an open environment. We will use SHRM.org as a guide but will work with one another to become examples for future leaders in the Human Resource field and be a benefit to our campus community.
We help UM-Flint students with resumes/cover letters, interviewing, offering student professional development, and more to help prepare students to get an internship or career opportunity during their time in college.
---
Next Meeting:
Fall – October 10th, 2023 5:30pm-6:30pm
Abigail Weycker, (aweycker@umich.edu) is available to reach via email with questions or comments!
---
Reactivating SHRM student chapter:
SHRM UM-Flint student chapter is in the process of reactivating our student chapter with SHRM.org, the National Society for Human Resource Management. If you are currently a student or professional member of SHRM, please complete the form for our records. We will use this information to submit it to SHRM. We need 8 students to be members of the national SHRM organization to be recognized as an active chapter. Being an active chapter, we will have more resources and guidance from SHRM as well as grant opportunities to fund professional development, student memberships, and partnering/networking with professional SHRM chapters in Michigan. Learn more about student memberships with SHRM.

Congratulations to Abigail, Elayna, and Laurel for winning the 2022 MISHRM game day event and being awarded The Callie Zipple Spirit of HR award.
2021 CWE Awards:
SHRM won two awards at the 2021 Celebrating Wolverines Excellence event hosted by the UM-Flint Student Involvement and Leadership department.
Outstanding Student Organization Advisor was awarded to Brian Blume, Professor of Organizational Behavior & HR Management, and Gerald Knesek, Lecturer IV of Management.
Outstanding Student Organization at UM-Flint!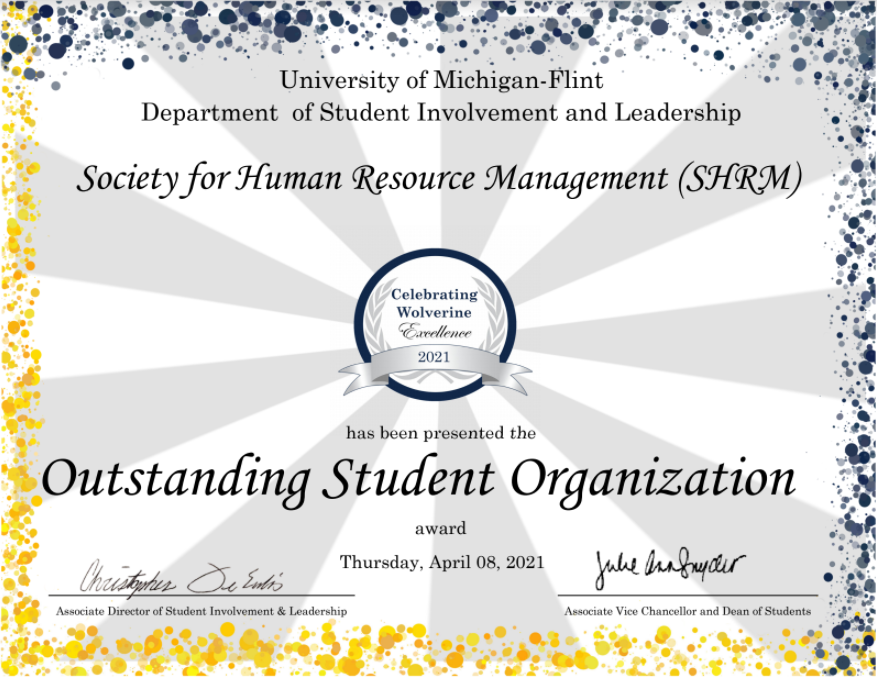 ---
November 2023
M
T
W
T
F
S
S
1
2
3
4
5
6
7
8
9
10
11
12
13
14
15
16
17
18
19
20
21
22
23
24
25
26
27
28
29
30